About Beverly Hills Facelift Institute
Our Philosophy: "Where Beauty Creates Itself"
Introduction
"I play the notes as they are written but it is God who makes the music" (Bach)
When the "doing" is not a means to an end but pure enjoyment, creative energy flows. The Beverly Hills face lift Institute was created not only to be the center of excellence for face lift in Beverly Hills but also to provide a space where creativity, imagination and inspiration provide the foundation for groundbreaking new approaches and procedures and create an energy field where" beauty creates itself".
At the Beverly Hills Face Lift Institute you are not going to find self-serving claims of being "the best", "the most experienced" or the 'Celebrities' favorite". It is not a self-promoting place. Our name is derived from the fact Beverly Hills happens to be the place where we work and live, and face lift is something we have been specializing in for more than two decades. New techniques are presented, pros and cons are discussed in the most honest way, less invasive procedures are offered as alternatives, and before and after pictures are shown leaving you to decide what it is best for you.
"The music is not in the notes but in the silence between" (Mozart)
At the Institute, facelift is everything we do. We are honest and passionate about doing it and we hope it shows in our work. Our philosophy is centered on listening to your needs, spending a considerable amount of time with you, and then offering you honest suggestions to improve your facial appearance. We take you through this journey in the most caring way. If a face lift is not what you need, we will tell you so and direct you to other alternatives or, most importantly, tell you not do anything at all.
Looking younger and fresher isn't going to change your life or be the answer to all of your problems, but we hope it can help you find the piece and joy we feel when we are doing what we are truly enjoying doing.
Beverly Hills Facelift Institute Director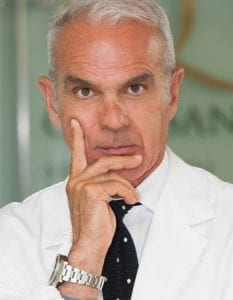 Dr. Renato Calabria is a Beverly Hills Plastic Surgeon practicing in the heart of Beverly Hills for almost two decades. Dr.Calabria is Board Certified by the American Board of Plastic Surgery, the ONLY board which is recognized by the American Board of Medical Specialties as the gold standard for plastic surgery. Dr Calabria specializes in Face Lift surgery, minimally invasive plastic surgery and regenerative plastic surgery.
Beverly Hills Plastic Surgeon Dr Calabria is Board Certified by the American Board of Plastic surgery. He is a Member of the American Society of Plastic Surgeons. Dr Calabria is a Fellow of the American College of Surgeons and a Fellow of the Royal Society of Medicine in London. He is also a Member of the Los Angeles Society of Plastic Surgeons. Dr Calabria is also part of the Voluntary Faculty of the Department of Plastic Surgery at USC where he teaches the residents the latest techniques in cosmetic surgery.