What Is a One-Stitch Facelift?
Facelift surgery is not just for mature patients anymore. Men and women of all ages desire facial rejuvenation; however, not all patients need a traditional facelift.
Facial aging occurs at different rates and can cause varying issues.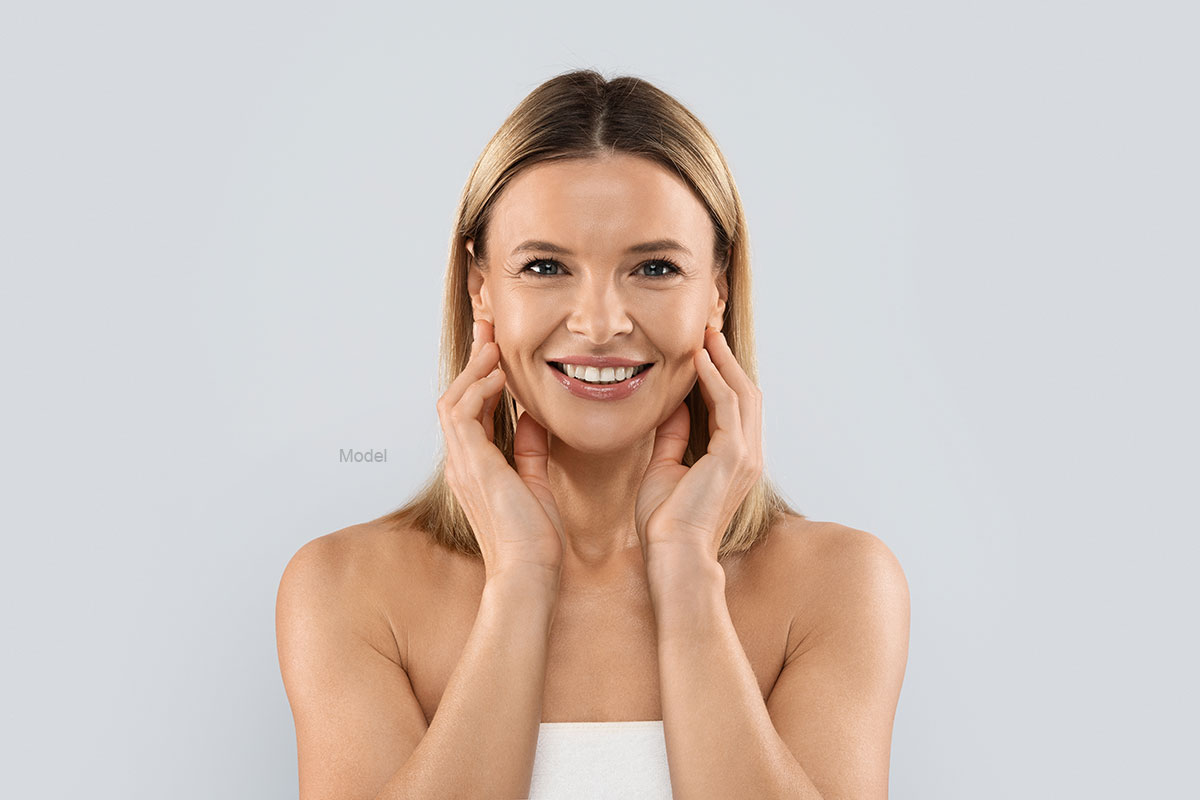 Luckily, the cosmetic surgery industry has adapted to the diversity of its patients, and there are more options than ever for facial rejuvenation.
One such option is Dr. Calabria's one-stitch facelift, which is ideal for patients with minimal to moderate revision or those with prior facelifts and desire maintenance.
What Are the Benefits of the One-Stitch Facelift?
If you are interested in facelift surgery to alleviate aging concerns like skin laxity, deep creases, sagging cheeks, and jowls but have reservations about invasive surgery, the one-stitch facelift might be for you.
Patients who desire facial rejuvenation without invasive surgery have plenty of options, including BOTOX® Cosmetic and dermal fillers. However, these non-surgical options offer temporary results that must be maintained every few months, offering little in the way of lasting relief from wrinkles, fine lines, and volume loss.
The one-stitch facelift provides comparable results to that of a full facelift without the downtime or recovery period.
Other benefits of the one-stitch facelift include:
A lifted and contoured facial aesthetic
Revision for sagging, wrinkled, and creased skin
Long-lasting results
Little to no visible scarring
Shorter recovery time
What Is the One-Stitch Facelift Procedure?
Dr. Renato Calabria understands that the inconvenience and pain associated with facelift recovery don't work for many patients. Because of this, he developed the one-stitch facelift to bring rejuvenation with a less invasive procedure.
The concept of a one-stitch facelift came from an old Hollywood trade secret. Actresses would use a piece of tape to pull and lift the midface. Dr. Calabria designed this technique to mimic this practice.
During the one-stitch facelift procedure, Dr. Calabria administers a local anesthetic — general anesthetic is unnecessary. In this 45-minute procedure, Dr. Calabria will make one small incision on each temple to internally lift the cheeks vertically, utilizing the patient's tissue as an anchor for natural enhancement.
The only external stitches are located on the side of the face, in the sideburn area, and are easily hidden by the patient's hair.
The one-stitch facelift is less invasive than other facelift procedures and is best for those with minimal skin laxity.
Many patients need only one or two days of downtime before returning to work. Swelling and bruising are also minimal, as Dr. Calabria is not manipulating as much tissue.
The speed of recovery is one of the most attractive benefits of this technique, as it does not impact the patient's normal activities for very long.
Your Beverly Hills Facelift Expert
The best way to determine which type of facelift is best for you is to schedule a consultation with world-renowned facial surgeon Dr. Calabria.
Whether your personal rejuvenation goals include dramatic or subtle results, Dr. Calabria has pioneered cutting-edge techniques to provide each patient with individualized treatments. Each of his facelift techniques aims to provide stunning yet natural results, utilizing the benefit of lifting the skin and tissue on a vertical plane rather than laterally, avoiding the "windswept" appearance.
Interested in the One-Stitch Facelift in Beverly Hills?
If you want the rejuvenating results of a facelift without pain, recovery, and scarring, the one-stitch facelift might be for you. Call the Beverly Hills Face Lift Institute today at (310) 777-0069 to schedule a consultation with Dr. Calabria.