How Do Injectable Dermal Filler Results Compare to Facelift Surgery?
3 Minute Read:
Age-related cosmetic concerns on the face (such as wrinkles, fine lines, and sagging skin) can cause women and men to feel self-conscious, and while you can try to hide some of these aesthetic issues with makeup and accessories, the reality is that these concerns constantly remain on your face.
That is unless you undergo a cosmetic procedure to address these facial concerns.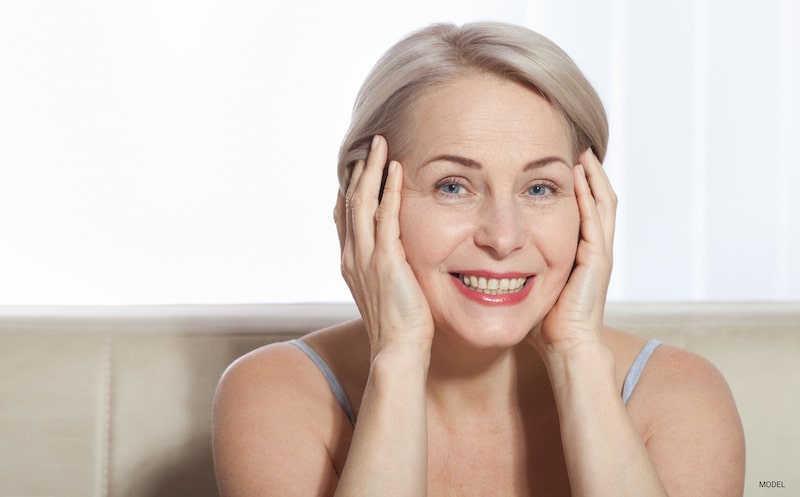 Facelift surgery is often the go-to plastic surgery procedure for women and men looking to revitalize their facial appearance so that they look younger (which also boosts their confidence).
Many patients ask about popular dermal filler injections to restore the look and feel of the face; however, this is not always the best option.
Below, we'll take a look at these various cosmetic procedures to help you better understand why a facelift is often the best suggestion for patients looking to improve their appearance.
What Are the Benefits of Facelift Surgery?
All you need to do is look at the stunning results to understand why facelift surgery is one of the most popular plastic surgery procedures every year.
With a facelift, underlying facial tissue is manipulated to create a more youthful and sculpted appearance (including a more defined jawline) while sagging skin is surgically trimmed away. This procedure helps to reduce (or even eliminate) the presence of wrinkles and fine lines on the face to create a smoother, more youthful appearance that can help you feel confident and comfortable with how you look.
In addition to the dramatic results of this procedure, a facelift can offer long-lasting results (10 to 15 years).
What Facelift Options Do I Have?
Dr. Calabria is proud to offer several different facelift techniques to help give you the results you desire.
Below are some of the revolutionary facelift procedures that he offers at the Beverly Hills Facelift Institute:
At your consultation, Dr. Calabria will help you decide which facelift technique is best for your needs.
Why Aren't Dermal Fillers the Best Option for Everyone?
Dermal fillers are non-surgical injectables designed to create fullness in the face that can augment and fill in lines and creases.
Many patients ask about a liquid facelift, which is a combination of dermal fillers that help rejuvenate the face. However, these options only offer temporary results (when compared to the long-lasting results achieved from a facelift surgery) and cannot tighten sagging tissues.
Because of this, a facelift procedure is always suggested over dermal fillers for women and men with moderate to significant signs of aging.
However, if you have minimal concerns and do not want to undergo a surgical facelift, then you may be a candidate for a non-surgical facelift procedure, which utilizes stem cells taken from your own blood to restore lost volume to your face (which is something that facelift surgery cannot achieve).
This treatment can help give you a fuller, healthier appearance to your face.
In the End…
Non-surgical treatments, such as dermal fillers, offer patients a wide variety of cosmetic improvements, but these treatments are not a substitute for facelift surgery.
Want to Learn More About Your Facial Rejuvenation Options?
If you are interested in rejuvenating the appearance of your face through either facelift surgery or injectable treatments, contact us today to schedule a consultation. You can contact us by calling (310) 879-1488 or by using our online form.