When Are You Too Old for a Facelift?
4 Minute Read:
After you see the transformative results of facelift surgery, there's really no question as to why this procedure was the third most performed cosmetic plastic surgery procedure in 2020.
Facelift surgery can create a more youthful facial aesthetic, which can help you feel more confident about the way you look. However, many people worry that they are too old to undergo facelift surgery.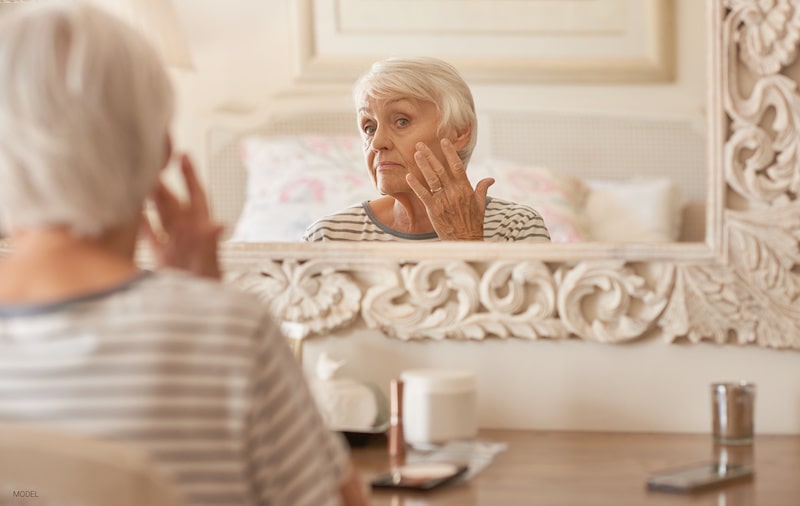 This blog will explore facelift surgery (including the different techniques that Dr. Calabria offers) and will discuss how you are never too old to achieve the facial transformation you desire!
What Can a Facelift Achieve?
Plastic surgery can help men and women of all ages achieve the physical aesthetic they desire to help them feel more confident and comfortable in their own skin.
A facelift is a cosmetic procedure that helps rejuvenate the lower two-thirds of the face (from the cheeks to the neck). This is important because age-related skin concerns (the presence of wrinkles and fine lines as well as sagging skin and jowls) are most prominent in this area. These skin issues leave men and women looking much older and worn down than they are (and definitely older than they feel).
With facelift surgery, Dr. Calabria will lift facial tissues, reposition facial fat, surgically remove excess skin, and pull the remaining skin tight before closing the incisions. This procedure helps erase skin folds and gives the face a more contoured and defined appearance.
Ultimately, facelift surgery helps you look younger and more energetic than you have in years!
What Facelift Options Are Available?
Dr. Renato Calabria is a plastic surgeon who specializes in facelift surgery. Because of his expertise in helping men and women achieve the facial aesthetic they desire, he offers many revolutionary facelift techniques to help give his patients the best results possible.
Instead of using the traditional horizontal facelift technique, where the skin is pulled laterally, Dr. Calabria uses the vertical facelift approach, which helps to give patients a more natural appearance. Unlike older facelift methods, which create an exaggerated, too-tight, windswept look to the face, the vertical facelift elevates the facial skin to reduce signs of aging in the lower two-thirds of the face, including along the jaw.
Along with the vertical facelift technique, Dr. Calabria offers several other facelift options that can help patients of any age, including:
The stem cell enhanced facelift, which uses stem cells from your own body to help restore lost volume while achieving a more youthful appearance from the vertical facelift.
The one-stitch facelift, which utilizes a small incision to create a suspender flap beneath the skin to lift the underlying tissue to a more natural and youthful level.
The non-surgical facelift, which uses fat from your own body to help increase the production of new collagen in your facial skin, thereby rejuvenating the quality of your facial tissue. This helps you achieve a smoother and more youthful aesthetic in your skin.
Are You a Candidate for Facelift Surgery?
It is important to understand that facelift surgery is an invasive procedure, and there will be a recovery period. However, the results that can be achieved from a facelift are unmatched.
While many potential patients worry that they are too old for a facelift procedure, the truth is that men and women in their 60s and 70s undergo facelift surgery without any complications. These patients are able to rejuvenate their facial appearances and look more youthful and energetic.
Nowadays, being in your 60s, 70s, and even 80s is not what it used to be. That is because senior men and women are more active than ever before, and they are taking better care of themselves. And looking as young as you feel is an important aspect of aging well.
Ideal facelift candidates are non-smoking men and women, who are in good general health and have realistic expectations for their results.
No matter how old you are, if you think that facelift surgery is right for you, then make sure to schedule your consultation today! There's no reason to put off looking and feeling your best!
Interested in Learning More?
To learn more about the benefits of facelift surgery, contact us today to schedule a consultation. You can contact us by calling (310) 879-1488 or by using our online form.