Look More Youthful Without a Lengthy Recovery
Time is at the crux of everything we do. The way we run our lives and the way we feel about our appearance is all too dependent on the effects of time. It can be deeply discouraging to suddenly look in the mirror and see wrinkles, sagging skin, and other signs of time's passage. Luckily, there are ways to rejuvenate your appearance and give you the look you want. Dr. Calabria offers procedures, such as traditional facelift surgery, to tighten and revitalize aging skin, along with other methods and techniques.
A facelift can help slow the appearance of time's effects on facial skin by lifting and tightening for a refreshed look. But the recovery time associated with a facelift is often a turn-off for people who simply do not have time to fit a lengthier recovery into their schedules. Some people may also still be new to the world of plastic surgery and looking for methods which are gentler and less invasive while still showing results. Dr. Calabria specializes in options that can fit these needs while still delivering gorgeous results.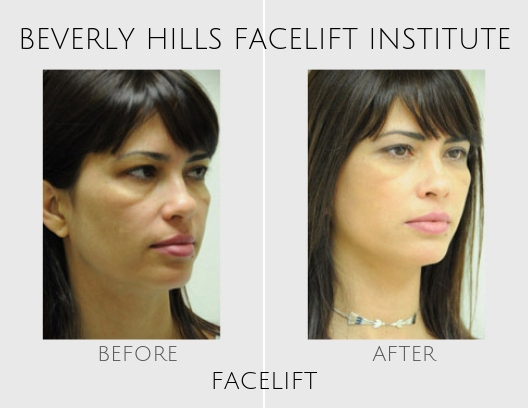 Is Facial Rejuvenation Right For Me?
There are several reasons to consider facial rejuvenation procedures, not the least of which is addressing concerns about visible signs of aging. Facial rejuvenation can also help address other skin issues. You may want to consider facial rejuvenation if you have:
Concerns about visible signs of aging, such as deep lines or sagging skin
Other facial or dermatological issues, such as acne scars or dark spots
A desire to address aging or other concerns sooner rather than later
Realistic expectations about facial rejuvenation procedures
Facial rejuvenation can be used to treat specific areas of concern, such as loose skin near the cheeks or "jowls". It is not a complete "cure-all" but facial rejuvenation can be used to combat problem areas for a truly dramatic difference.
Beyond the Facelift: Other Facial Rejuvenation Options
Dr. Calabria has conceptualized two methods that deliver beautiful results without the need for a longer recovery time or a more invasive procedure. The non-surgical facelift uses the patient's own tissue in a revolutionary manner, while the one-stitch facelift gives patients a tighter look with only minor incisions. Both options are ideal for patients who want to revitalize their appearance while avoiding the longer recovery times of other procedures. These procedures are also good options for patients who may require a more robust treatment than fillers or laser treatments.
Non-surgical Facelift
This groundbreaking technique was developed by Dr. Calabria to serve as a minimally invasive procedure that does not require general anesthesia or a long recovery time. This treatment uses the patient's own purified stem cells to correct lost facial volume and trigger regenerative growth in the skin, leading to a more youthful look.
After performing liposuction to remove the stem cells, Dr. Calabria injects the purified stem cells using microcannulas, or tiny needles, into targeted areas of the face. Because of the use of the patient's own stem cells and small needles, recovery time is very quick. Patients will more than likely be sore and swollen at first, but the side effects should subside quickly. Most non-surgical facelift patients are fully recovered within two to three weeks.
One-stitch Facelift
The idea behind the one-stitch facelift is quite simple: it uses "one stitch" to tighten and lift skin, much like Hollywood actresses used tape to lift sagging skin before a take—Dr. Calabria's inspiration. The one-stitch facelift is a little more invasive than a non-surgical facelift, but still only utilizes local anesthetic before Dr. Calabria makes a small incision near the sideburn area.
Dr. Calabria then uses that incision to lift the cheeks, and excess skin is thinned out to make a flap that anchors and tightens facial skin and muscles, leading to a naturally enhanced, more youthful look.
Patients who undergo this procedure will likely experience only minor pain, swelling, or bruising immediately after, but this can be managed with medication. The recovery process should not last longer than a weekend and patients should be fully recovered within a few weeks.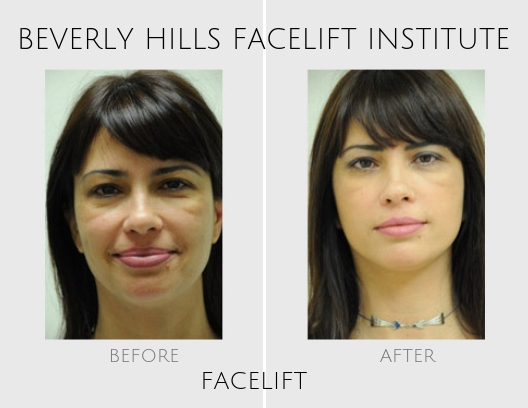 Facial rejuvenation does not have to take months of recovery time to deliver beautiful, dramatic results. Dr. Calabria's revolutionary methods give patients a way to refresh their look without the hassle and discomfort of a lengthy recovery process.
Interested in learning more? Call our office at 310-777-0069 and schedule a consultation soon.