Facial Rejuvenation for Men
Women are typically cosmetic surgery's most prominent patrons; however, men are quickly catching up. Studies show that men seeking cosmetic procedures have drastically risen in the last few years, with facial rejuvenation procedures leading the pack. The American Society of Plastic Surgeons says male facelifts have increased by 14 percent since 2010, and are expected to grow more. Facial rejuvenation will refresh a man's appearance and help boost his confidence by targeting problem areas in the face, just like procedures for women. However, there are a few core differences in facelift surgery for men than for women that must be kept in mind, such as the differences in facial anatomy and how those may affect the procedure. Dr. Calabria's office can help men looking to rejuvenate their appearance by providing tailored procedures designed to keep the masculine look intact.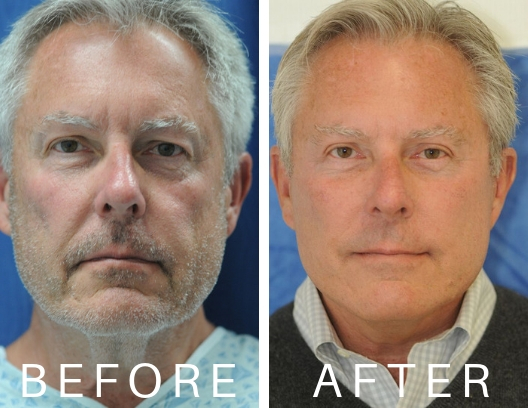 A male facelift will target many of the problem areas a typical facelift treats—such as loose skin, deep lines, or facial scars. But men's faces are shaped differently from women's, and patients and doctors must keep these anatomical differences in mind when first evaluating any candidate for surgery. For example, a man's facial skin tends to bleed more than a woman's during surgery, which means there's a higher risk of developing hematomas (temporary pools of blood) after surgery. Hairlines and beard hair should also be considered. A receding hairline can make it challenging to hide surgery scars, and beard hair may affect facelift surgery if the skin from the upper neck, where beard hair typically grows, is pulled backward.
One big concern for men tends to be fatty areas beneath the chin, also known as "jowls," and a male facelift can help correct the issue. However, men's muscles in this area tend to be thicker and stronger than women's. Dr. Calabria will explain how these procedures work to rejuvenate the appearance and what men should expect from facelift surgery.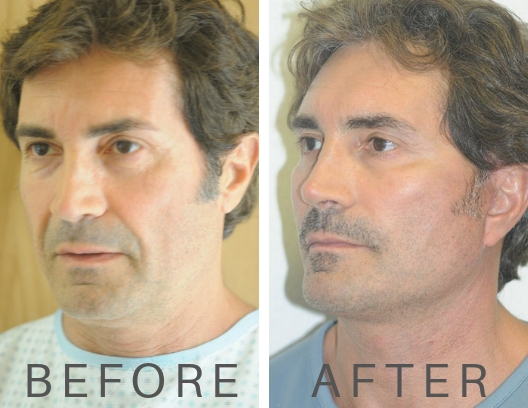 The best results come from candidates who desire to refresh their appearance without looking and feeling overdone. Men who want to correct their jowls, tighten up loose skin, or smooth out deep lines are also ideal candidates. There are a few different procedures Dr. Calabria offers that can fit the bill for any man who wants to look and feel a little younger again. A male facelift performed by Dr. Calabria will be customized for each patient and will ensure the desired result is achieved.
Interested in a male facelift? Contact us today.