Why Should I Get the Non-Surgical Facelift?
2 Minute Read: 
Committing to an extensive surgery can feel overwhelming for some people. Luckily, there are many modern minimally invasive plastic surgery procedures available that will achieve great results. According to the American Society of Plastic Surgeons (ASPS), there were over 15 million minimally invasive procedures performed in the U.S. in 2017, with many of those being the non-surgical facelift.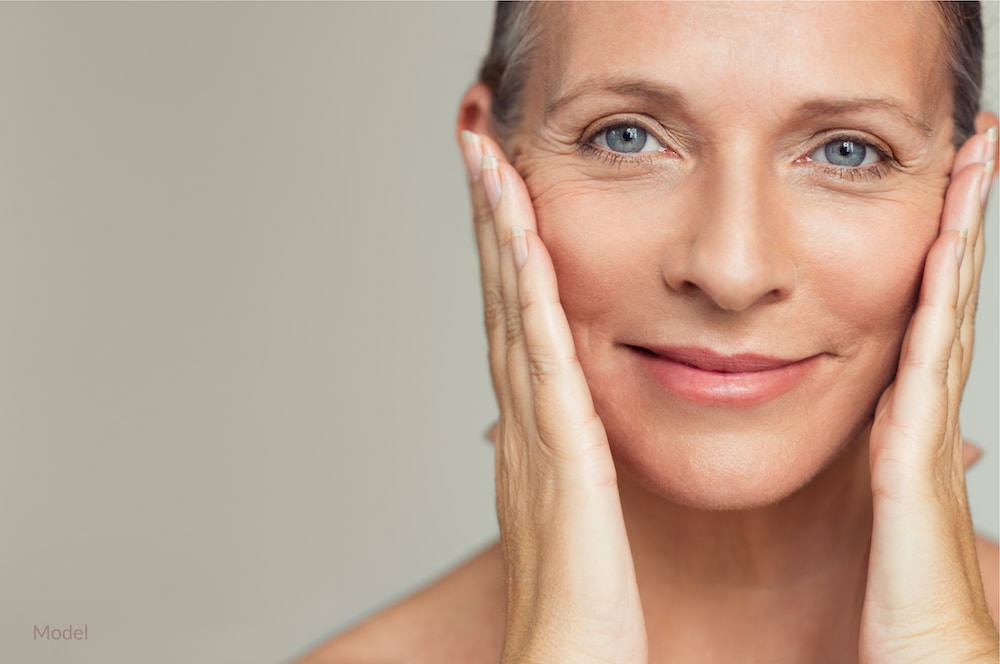 What Is a Non-Surgical Facelift?
A non-surgical facelift is a procedure that looks to recreate the effects of facelift surgery by tightening the skin and reversing the signs of facial aging (without invasive facelift techniques). Patients do not require general anesthesia, will avoid large incisions, and will experience a quicker recovery period.
Is a Non-Surgical Facelift Right for Me?
Simply put, a non-surgical facelift can give your face younger, tighter skin without going under the knife. It is the perfect option for someone who does not feel comfortable with the concept of facelift surgery but still has loose skin and visible aging on their face that disturbs them.
It should be noted that a non-surgical facelift provides less dramatic results than a surgical facelift. However, with regular maintenance, the results will be long lasting.
How Is a Non-Surgical Facelift Performed?
Dr. Calabria relies on the use of stem cells for his non-surgical facelift. This process is accomplished in a simple three-step process:
Extraction
Local anesthesia is administered to ensure the process is as comfortable as possible for the patient. Next, Dr. Calabria will perform liposuction to extract and harvest unwanted fat cells from your chosen problem areas on the body. 
Individuals get the added benefit of losing unwanted fat in addition to their non-surgical facelift.
Purification
Using an enzymatic process, impurities and excess fluid are removed from the harvested fat. This fat helps to rebuild facial tissues by triggering cell regeneration, which helps your body produce new collagen.
Facelift Injection
A microcannula is used to strategically inject the stem cells into areas of the face that may have experienced textural imperfections, thinning skin, and volume loss. Some of the injected fat is metabolized, but whatever remains will be incorporated into the facial tissues. This achieves the long-term results of a tighter face with fewer wrinkles.
Interested in Learning More?
If you would like to learn more about a non-surgical facelift or stem cell-enhanced facelift, contact Dr. Renato Calabria at the Beverly Hills Facelift Institute by calling (310) 777-0069 or by filling out our online contact form. With decades of experience, the Institute can deliver results that will make you feel happier and more confident.